Pet Carrier Backpack + Free Harness & Leash
Never Leave Your Best Friend Behind!
This high-quality pet backpack helps you to take your beloved dog or cat together safely and comfortably. Suitable for hiking, camping, shopping, going on bike rides or more activities outside, let your pet enjoy a soothing stroll while keeping your hands free.
Designed with veterinarian approval and years of customer feedback to be as comfortable and safe as possible for you and your pet.
Reduce Anxiety & Stress
Large Capacity
Suitable for several kittens, 2 cats or a large cat (maine coon breed)
Holds up to: 25lbs / 11.5kg 
No matter how much they weigh, your pet will be comfortable. This is the best capacity on the market.
SUPERIOR SAFETY AND COMFORT
Made with premium, claw-resistant material, this backpack has air holes and strong, breathable mesh sides and top for optimal airflow. It also comes with two zipper options to keep your cat comfortably secure inside.
EXTRA SPACIOUS FOR THE BIG-BONED CAT
So big and sturdy that it can hold over 20+ pounds of cat! Whether you've got a larger cat or two cats to carry with you, this backpack makes your adventures pawsible! "PET CARRIER BACKPACK" is also great for dogs who weigh about 20+ pounds.
CUTE BUBBLE/HONEYCOMB WINDOW ATTACHMENT
Your cat will have loads of fun looking out its futuristic bubble window while you're out and about in your neighborhood, touring the cityscape, or hiking up the mountains.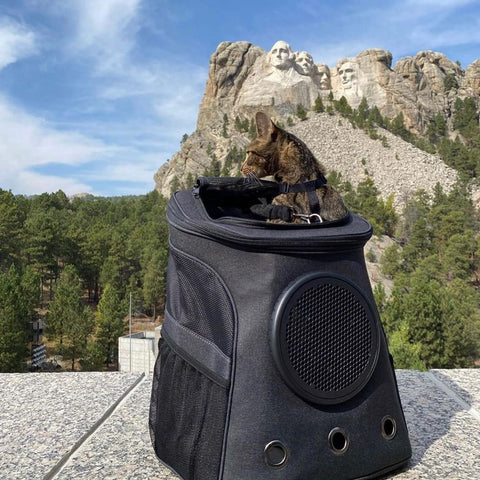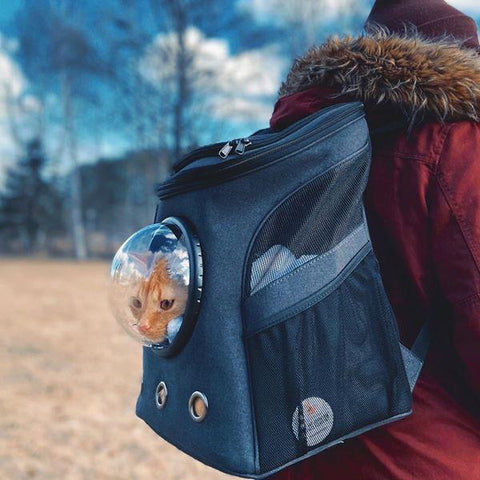 PURRFECT FOR ALL KINDS OF TRAVEL
Our line of cat backpack styles generally comply with airline pet-flying policies so you can take your fur baby to the skies with you. (Contact your airline of choice before booking.)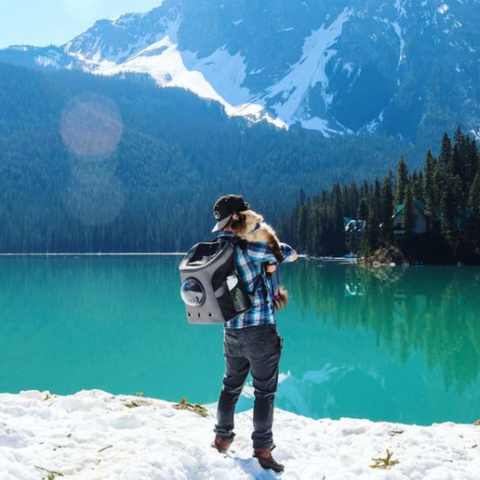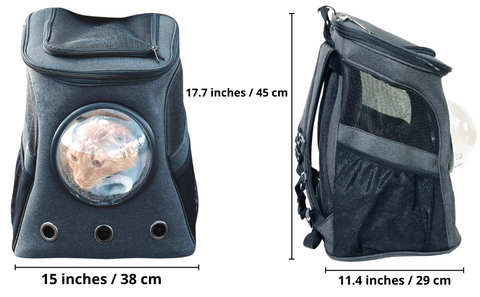 1.Paypal payments
You can connect your PayPal, credit card, debit card or bank account to PayPal for purchasing some of our products. After submitting an order, you will be redirected to PayPal to complete the transaction.

1.Log into your PayPal account or use Credit Card Express;
2.Enter your card details and  click "Submit";
3.Your payment will be processed and an invoice will be sent to your e-mail address;
2.Credit or Debit card payments
If you don't have a PayPal account - don't worry you can still pay with your Credit/Debit card. When you arrive at the PayPal screen (see the image below) choose the button highlighted with the red circle, click the "Pay with debit or credit card" button. It may say something different on your screen but it will still give you the choice. Once you have clicked the button you will then be presented with a form that requires you to enter your information.